Let us pray for you

"Do not be anxious about anything, but in every situation, by prayer and petition, with thanksgiving, present your requests to God." -- Philippians 4:6 (NIV)
Prayer is Important to Us

"As soon as I pray, you answer me; you encourage me by giving me strength." -- Psalm 138:3 (NLT)

Through prayer, we are asking God to move on our behalf or for the sake of someone else; this is termed "Intercessory Prayer." Prayer can and will, providing God's conditions are met, accomplish many wonderful things. Prayer can strengthen our souls, Prayer can impart peace, instead of us being overcome with anxiety and fear, Prayer can help us come to a greater understanding of God';s purpose for our lives, and Prayer gives us the opportunity to bring all that is on our hearts before God.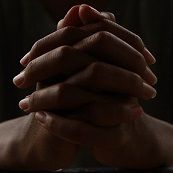 Join in on our Prayer Line
Even though we can't meet in person, we can still come together in prayer
Wednesday evenings at 7:00pm.
Dial 712-770-4951 and enter access code 228254#

Please note: You can use your home phone or cell phone. Only T-mobile charges .01 cent per minute.